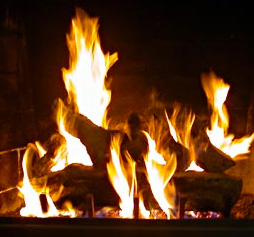 As colder weather approaches, images and thoughts of home-cooked baked goods and cider by the fire seem to be everywhere, from the local home improvement stores to pinterest. Have you readied your home for the approaching season? A little preparation now will ensure that you are ready and able to get cozy when the opportunity to snuggle strikes.
A call to the chimney sweep can have your fireplace in good order in no time, Proper maintenance (bi-annually or every 75 fires) is necessary for chimneys to avoid build up of creosote, plus you'll feel like a regular Mary Poppins by having a chimney sweep in your home.
If you are new to your home and have not used the fireplace before, have someone with experience (maybe even your chimney sweep) show you the ropes. You'll need to understand how to open and close the flue as well as any safety screening or hardware that may surround your hearth. A spark arrester should be installed on your chimney, as well, so check to make sure it's in place.
Once you have a fire burning, remember to use caution and a watchful eye, especially if you have children in your home. Use appropriate tools to turn your fire and keep the screen closed to avoid sparks harming people, furniture or floors. If you find the room getting smoky, try opening a window slightly to allow it to dissipate.
Allow yourself to relax and enjoy the warmth of your fireplace and you'll find yourself saying, as Dorothy in Oz, "There's no place like home" for years to come.